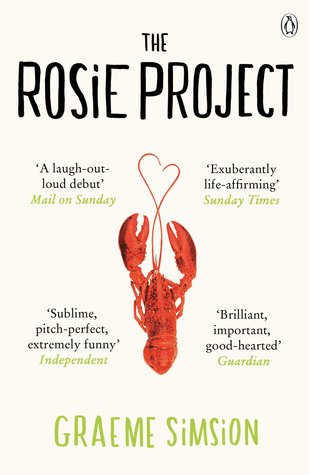 From Goodreads
Meet Don Tillman. Don is getting married. He just doesn't know who to yet. But he has designed a very detailed questionnaire to help him find the perfect woman. One thing he already knows, though, is that it's not Rosie. Absolutely, completely, definitely not.
My thoughts
Don is a late thirtysomething suffering with Aspergers. He has a lack of certain social skills around people due to this, he finds it hard fitting in to the norm, whatever the norm is!
Don wants to marry but he hasn't met the right person yet. He decides to formulate a questionnaire to give to all the ladies that he meets, the questionnaire is supposed to help him determine who is the right person for him based on the answers given.
Along comes Rosie, who isn't your typical female and as she begins to turn Don's life upside down with her habits and the way she is. He begins to wonder if the questionnaire route is the one to go down. Rosie is like a whirlwind whch is completely the opposite to Don, who due to the Aspergers likes things done in a certain way all the time.
Don and Rosie are great characters and you can't help but want things to work out right for them. There are also some great secondary characters, who are friends of Don's.
I laughed and at times wanted to cry, while I read this story and as both Don and Rosie learned that life isn't always as straight forward as we at first hoped it would be. Will love conquer all?
The story is well written and is a very light hearted take on the life of someone suffering with Aspergers.
I will be reading more by this Author in due course and gave this 9/10.