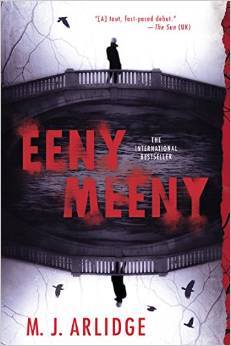 From Goodreads
The "dark, twisted, thought-provoking" (#1 New York Times bestseller Tami Hoag) international bestseller—first in the new series featuring Detective Helen Grace.

Two people are abducted, imprisoned, and left with a gun. As hunger and thirst set in, only one walks away alive.

It's a game more twisted than any Detective Helen Grace has ever seen. If she hadn't spoken with the shattered survivors herself, she almost wouldn't believe them.

Helen is familiar with the dark sides of human nature, including her own, but this case—with its seemingly random victims—has her baffled. But as more people go missing, nothing will be more terrifying than when it all starts making sense....
My thoughts
My thanks to the Publishers and NetGalley for the opportunity to read this story in exchange for an honest review. I gave this a 3.5 stars or 7/10.
I loved the premise of the story, where two people are made to choose either to kill or to be killed. I wonder if left with that decision, what I would do or what any of us would do?
As the game progresses, more and more couples are being left with the decision to make. Who is carrying out this fiendish game? Are they working alone?
Detective Helen Grace is tasked with leading the investigation into the game and is trying her hardest along with her colleagues to find out who is behind these seemingly unrelated occurrences. Helen Grace has a past like most of us. She has secrets that she would prefer stayed were they where, in the past. She is a dedicated detective and I couldn't help but grow attached to her.
Told in a series of short chapters, the story is fast paced and reasonably tense for the most part. I did find myself reading just one more chapter time after time. I did flounder a little part way through though and this detracted from my scoring. Quite well written and being the first in a series, I will be looking to read more books in what promises to be a great series. I feel that it will get better and better with each book.