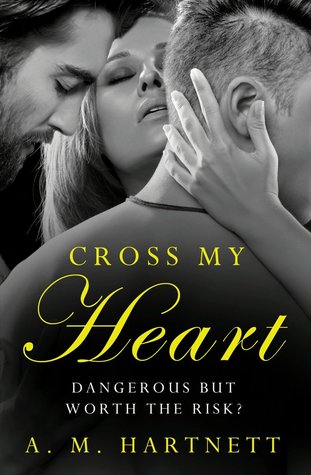 From Goodreads
Dangerous, but worth the risk?

Evie and Ryan are selective. Not just any man will do. After weeks of trying to make a connection online they finally extend an invitation that outs their sinful search to their widowed landlord, Seth. And then Seth reveals a secret of his own: he's more than eager to become his young tenants' playmate.

In spite of the explosive dynamic the threesome find in bed, Ryan's insecurities bubble to the surface. He wanted a lover who wouldn't hurt Evie, but as he watches his woman writhe with the ecstasy another man gives her, it becomes clear that Seth isn't the one Evie needs to worry about leaving with a bruised heart. Sharing the control in bed was the easy part. Losing control of his emotions could destroy what he has with Evie.
My thoughts
7/10 from me. This is a short erotic story. My thanks to the Publishers and NetGalley for the opportunity to read this in exchange for an honest review.

Evie & Ryan are in a relationship but are looking to spice up their sex life. They come up with the idea of having another person in the bedroom with them of the male variety. They both want to experiment, but deep down neither of them wants to be used or abused. As they embark on a slightly haphazard way of finding that third person they have a few bad experiences which leave them wondering if perhaps they have made the wrong decision.

Then out of the blue right under their noses they find that third person, none other than Seth their landlord. As the boundaries between tenant and landlord become blurred they embark on a temepstuous time in the bedroom and out of it.

I found this an easy reasonably well written read, it's definitely steamy and for the over 18 reader. Please don't attempt reading this if you are offended by man on man action between the sheets, so to speak.