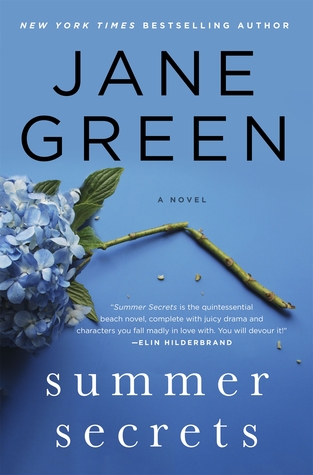 From Goodreads

Jane Green delivers her second blockbuster novel of 2015, a story of one woman struggling to right the wrongs of her past, with even more complications in the present.

June, 1998: At twenty seven, Catherine Coombs, also known as Cat, is struggling. She lives in London, works as a journalist, and parties hard. Her lunchtimes consist of several glasses of wine at the bar downstairs in the office, her evenings much the same, swigging the free booze and eating the free food at a different launch or party every night. When she discovers the identity of the father she never knew she had, it sends her into a spiral. She makes mistakes that cost her the budding friendship of the only women who have ever welcomed her. And nothing is ever the same after that.

June, 2014: Cat has finally come to the end of herself. She no longer drinks. She wants to make amends to those she has hurt. Her quest takes her to Nantucket, to the gorgeous summer community where the women she once called family still live. Despite her sins, will they welcome her again? What Cat doesn't realize is that these women, her real father's daughters, have secrets of their own. As the past collides with the present, Cat must confront the darkest things in her own life and uncover the depths of someone's need for revenge.

My thoughts

I gave this an 8/10 and would have given it more if it had flowed a little better.
I really enjoyed this one. My thanks to the Publishers and NetGalley for the opportunity to read this story in exchange for an honest review. I have read several Jane Green books in the past and was very please when my request to read this was accepted.

Cat Coombs has not had a normal childhood, her Dad was quite strict with her, her Mum had problems with depression. She works hard and parties hard too, she likes a drink and it's no great surprise to find out that she has a drink problem. It's only after her Dad has passed away that she discovers that all is not what it seems. As she makes a journey of discovery to meet the father that she never knew existed. She makes a few mistakes while on her journey that are to have far reaching consequences.

At the heart of this story is the relationship between Cat and drink. She has an unhealthy obsession with drink and it's no surprise to find her visiting AA meetings. I found it refreshing to be honest to read a story that centred around this problem. I feel that a lot of Cat's problems and situations would not have happened had she not been a drinker. This would make a great reading group read in my opinion and I feel that a lively discussion would ensue.

Dealing with love and loss, alcoholism, jealousy and revenge there is enough to keep you reading and wanting to find out what happens to Cat on her journey through life.

At times I felt like taking Cat by the shoulders to try and shake some sense into her, to make her realise what it was she was throwing away. It took her a while to realise that drink was the ultimate problem in her life and that she had to overcome her alcoholic tendencies in order to get her life back on track.

To find out if she overcomes her drink problem and if things work out well for her in the end, then you'll need to grab a copy of the story for yourself.