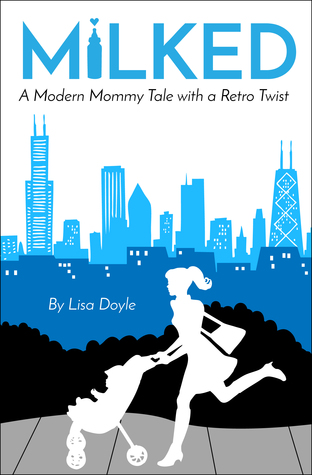 From Goodreads
By and large, Amanda Keane makes pretty good decisions. Okay, she might not have the best taste in men, but she's got great friends, a good job, and an independent spirit. That is, until her 30th birthday ushers in a whirlwind romance with a sexy Irish musician who leaves her, not at the altar as she imagined, but accidentally pregnant. And when he disappears, she's downsized out of a job, her apartment is robbed, and lapsed health insurance coverage leaves her with a C-section to pay for, Amanda is launched headfirst into the life of a broke single mom. But her friend and uber successful ob-gyn, Joy, clues her in to an unlikely temp position with one of Chicago's celebrity elite that just may be the answer to all her woes. Or could it be just the beginning?

It's with serious trepidation that Amanda embarks on her surprisingly lucrative new career: underground wet nurse to the offspring of Chi-town's rich and famous. Amanda must quickly understand how to live at the whims and mercy of the one percent as she deals with the irony of nursing – and loving – someone else's child, while still making ends meet for her own daughter. And then there's Cute Daycare Dad (aka Dan), who's obviously interested in her. But can she afford to tell him what she really does for a living? Is her new job (something she thought went out with the 19th century) a shameful thing? Just another way of selling her body? Or does it have something to teach her after all?

A novel of motherhood, its many demands, and all the little triumphs along the way, MILKED is a warm and witty debut about making tough choices and traveling the roundabout road to happiness.
My thanks to the Publishers and NetGalley for the opportunity to read this story in exchange for an honest review.

Amanda is a single young woman celebrating her 30th Birthday she meets and falls for a young sexy Irish musician. A whirlwind romance sees her planning a wedding, which never takes place. She is left almost jilted at the altar, but her problems don't stop there as unbeknown to her she is also pregnant.

Single and pregnant Amanda has some harsh decisions to make, the forthcoming birth is not the worst of her problems that she has to face. Her life appears to become a comedy of errors as one thing after another is sent to try her.

Following the birth of her baby she decides that breastfeeding is best for the baby and donates surplus milk to the Hospital for newborn babies. During one of her visits to the Hospital the now jobless Amanda's friend alerts her to a possible new job opportunity as a wet nurse to the rich of Chicago. As she embarks on this rather unusual change of career, she realises how easy it could be for her to do this for others but the irony is that whilst she is nursing and caring for other babies, her own baby has to go to daycare in order for her to be able to work and make ends meet.

As she reluctantly leaves her own baby at daycare, she keeps bumping into Dan who takes his child to daycare too. As a relatonship of sorts begins to blossom between them, can she afford to tell him what she does or will he see it as an odd career choice? It's not an easy decision to make at all but she's the only one who can make it.

This is quite an unusal topic to write a story about and wet nursing is not something that we hear about much in today's society. I really enjoyed the story and found it quite well written on the whole. I enjyoyed the relationships between Amanda and her men.

I will look out for further books by this Author. I gave this 4 stars/8 out of 10.