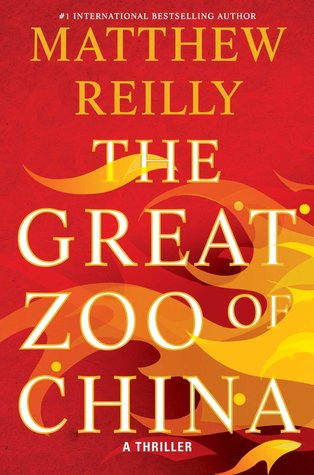 From Goodreads
It is a secret the Chinese government has been keeping for forty years.

They have found a species of animal no one believed even existed. It will amaze the world.

Now the Chinese are ready to unveil their astonishing discovery within the greatest zoo ever constructed.

A small group of VIPs and journalists has been brought to the zoo deep within China to see its fabulous creatures for the first time.

Among them is Dr. Cassandra Jane 'CJ' Cameron, a writer for National Geographic and an expert on reptiles.

The visitors are assured by their Chinese hosts that they will be struck with wonder at these beasts, that they are perfectly safe, and that nothing can go wrong.

Of course it can't…

GET READY FOR ACTION ON A GIGANTIC SCALE.
My thoughts
My thanks to the Publishers and NetGalley for the opportunty to read this in exchange for an honest review.
I gave this an 8/10 ~ 4 stars.
I have never read any of Matthew Reilly's books before and if this one is anything to go on then the others should be great reads.
I have read a few reviews online regarding this book and about how similar it is to Jurassic Park (JP), the Author even states in an article somewhere that he is a fan of JP. I must admit that as I was reading the story I spotted that fact quite early on. The story might follow similar themes out of the way theme park/zoo, dinosaurs in the case of JP and dragons in this case (no this is not a spoiler as there are already lots of reviews that state this fact and the Author himself even discloses this fact somewhere). There are plenty of other similarities but I won't go into them all. Lets just say that you should read this for what it is and ignore what others might think of it.
I really enjoyed this roller coaster of a ride and the female heroine does seem to be able to do no wrong at all. She is a rather gutsy heroine and at times you do have to suspend some belief but after all isn't that what books are for? To take us out of our normal day to day life and give us the escapism that we all crave.