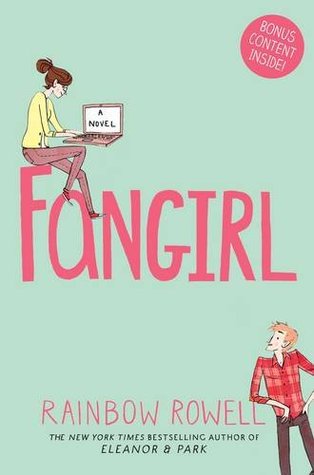 From Goodreads
Cath and Wren are identical twins, and until recently they did absolutely everything together. Now they're off to university and Wren's decided she doesn't want to be one half of a pair any more - she wants to dance, meet boys, go to parties and let loose. It's not so easy for Cath. She's horribly shy and has always buried herself in the fan fiction she writes, where she always knows exactly what to say and can write a romance far more intense than anything she's experienced in real life.

Now Cath has to decide whether she's ready to open her heart to new people and new experiences, and she's realizing that there's more to learn about love than she ever thought possible ...
A tale of fanfiction, family, and first love.
My thoughts
I've never read any books by Rainbow Rowell before but I was drawn to her when I saw a review by someone of Eleanor & Park, so I reserved both that one and this one from my local Library. I've still got Eleanor & Park to read soon. Now back to Fangirl though.
Predominantly this is a YA contemporary, coming of age read with a secondary side to it based on Fanfiction. Personally, I've never read any fanfic myself but I know that it's very popular.
Cath is the main author of Carry on Snow, along with her twin sister who has some input at times but it's mostly Cath's baby. Carry on Snow is fanfic of the Simon Snow series, which is a fictional series of books based on a magician and which to me resembled loosely the Harry Potter series. Cather (Cath) and her twin sister Wren were huge fans of the Simon Snow series as they were growing up.
As Cath and Wren leave home to go to College the story is centred around college life and home life, relationships and teenage angst.
Cath and Wren are like chalk and cheese. Cath being the rather shy and more introvert of the two. Cath shares a room with Reagan and Reagan has a boy friend called Levi, who Cath at first thinks is more than just a friend to Reagan. Once this little mistaken assumption is put right. A relationship slowly develops between Cath and Levi.
I really enjoyed the writing style and found this a very easy read, which it's target audience will enjoy. I was completely drawn in by the story too and couldn't wait to find out what happened in the slowly developing relationship between Cath and Levi. I feel that the book crosses over well as a read that a more mature reader would enjoy too.
If you've not read any books by this Author please do so soon, as you might enjoy the story as much as I did.