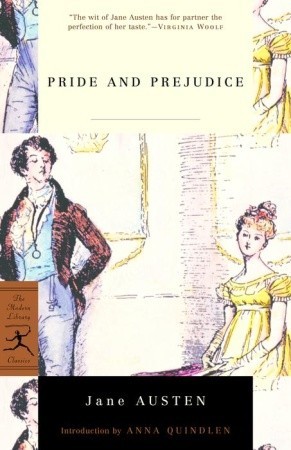 From Goodreads
"It is a truth universally acknowledged, that a single man in possession of a good fortune must be in want of a wife."

So begins Pride and Prejudice, Jane Austen's witty comedy of manners--one of the most popular novels of all time--that features splendidly civilized sparring between the proud Mr. Darcy and the prejudiced Elizabeth Bennet as they play out their spirited courtship in a series of eighteenth-century drawing-room intrigues.
My thoughts
I can't help but think of Colin Firth as Mr Darcy when reading this book. This is the first Jane Austen book that I've read but I've seen lots of them as TV dramas and films.

I don't know why I've put off reading her books, as I really enjoyed this one and I will be looking out for more of her work, if I've not already got some lurking on my TBR.

It was very well written and the characterisation was superb. Elizabeth Bennet has been brought up in a family full of young women and her Parents have been very supportive of their daughters. Mrs Bennet is a very whimsical sort of woman who yearns for nothing more than finding her daughters advantageous matches but sometimes her choices for her daughters are not quite what they want. In Elizabeth's case she tells her Mother so, and at one point her Parents agree to disagree as her Father would prefer that she didn't marry the man who her Mother would rather she did. Elizabeth though has her eye on someone else, who at first she has no time for but as the story progresses, realises that her initial opinions of him where perhaps swayed by anothers opinion of Mr Darcy.

With having seen many dramatisations of this story in the past there were no surprises at all for me in how the story pans out but this in no way marred my enjoyment at all.

If you've not read any of Jane Austen's work before, do please give one of them a go soon as you won't be disappointed.

I loved reading how the relationship between Elizabeth Bennet and Mr Darcy develops as the story evolves. At times I felt like knocking their heads together but ultimately I knew that love would prevail, so was happy to watch them from afar.