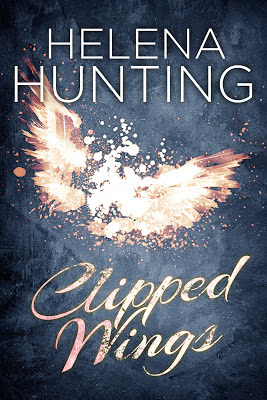 From Goodreads
An emotional love story that follows the touch-and-go relationship of Hayden and Tenley; two young people who desperately want to love and be loved but are afraid to completely let go of their pasts.

As Hayden and Tenley navigate their newfound but slightly unstable relationship, they want to trust each other, but Hayden is hiding a dark and shameful past that he doesn't ever want Tenley to find out about. And Tenley has secrets of her own that could make Hayden run away forever. When Tenley asks Hayden to put a beautifully elaborate tattoo across her back, the two form what they thought was an unshakeable bond. But when Tenley's past shows up on her doorstep, will Hayden stand by her side...or run?
My thoughts
I've never read any books by this Author before but when I saw it on NetGalley and read the description of this story I was hooked. Thanks to the Publisher and NetGalley for an ARC copy of this in exchange for an honest review.
Firstly, can I say that I loved it and was completely engrossed in the lives of Tenley and Hayden. This is definitely going to be a cracker of the month for July.
Apparently this started off as a fanfic according to some reviewers but I don't read fanfic, so have come to it completely unaware of what it originally was.
Tenley Page is a young student, who has had great sadness in her life. Hayden Stryker is a 25 year old tattooist, with part ownership of Inked Armour, a tattoo and body piercing parlour. He also has a sad dark past and has had learnt to deal with it in various ways, which he'd rather stayed hidden.
Tenley designs a drawing that she wants as a tattoo and Hayden is the one that she wants to adapt the design and tattoo her with it. Tenley has her reasons for having the tattoo done, which at first she doesn't want to disclose. As their paths begin to cross more and more, a relationship develops between them and as they begin to reveal their pasts to one another slowly and piece meal, both keeping back certain aspects that they don't want to disclose to one another. They both realise that they are somewhat broken and it's this that forms the basis of the relationship as they both become dependent on one another.
Hayden decides that, if the tattoo is to be done that he is the only one who will be doing it. He becomes very protectve towards Tenley and she thrives on this. At times it felt a little claustrophobic the relationship between them but at others that was the thing that drew me in and kept me engrossed with it.
As the story draws to a close we are left with a cliffhanger, to be continued in Inked Armour which I've already started as I needed my next fix of this series.
I really enjoyed the writing style, the charcterisations of the main charcters and the secondary ones. It's told in alternate POV from Tenley and Hayden, with some cross over parts.
If you enjoy a romantic series with lots of angst and dark secrets then this is the ideal series for you. I gave this a 9/10.