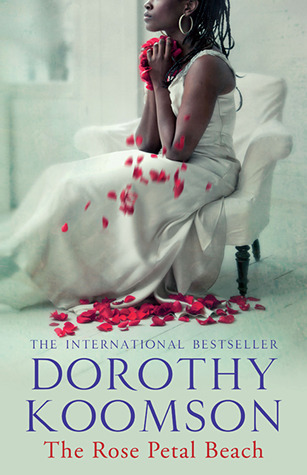 From Goodreads
Every love story has a dangerous twist.

Tamia Challey is horrified when her husband, Scott, is accused of something terrible – but when she discovers who his accuser is, everything goes into freefall. Backed into a corner and unsure what to think, Tamia is forced to choose who she instinctively believes. But this choice has dire consequences for all concerned, especially when matters take a tragic turn.

Then a stranger arrives in town to sprinkle rose petals in the sea in memory of her lost loved one. This stranger carries with her shocking truths that will change the lives of everyone she meets, and will once again force Tamia to make some devastating choices...
My thoughts
This is not an easy romantic read and at it's heart I felt there was romance as the book deals with the relationship between Tamia Challey and her husband Scott.

Tamia and Scott had been star crossed childhood sweethearts that married and along with their two daughters lived in a nice house on a nice road and seemed to have the perfect marriage. Tamia is friendly with Mirabelle and Beatrix, who are both very instrumental to the story.

Unfortunately, fate had other ideas for all of them and their lives are turned upside down when Scott is arrested for a crime he vehemently denies he didn't do. Tamia is not sure who to trust anymore and as the story progresses we see her make some odd decisions as to who to believe and not to believe.

Scott has skeletons in his cupboard that Tamia didn't realise existed but as things are revealed to her she realises that he is not the only one who has betrayed her but to what extent does the betrayal extend.

Told in a series of flashbacks in turn between the past and the present, the story is narrated by Tamia, Mirabelle and Beatrix for the most part.

Dorothy Koomson can tell a good yarn and lays all her characters bare for us the readers to see the flaws and emotions inside them all. How well do any of us no our friends and what choices would we have made had we been in Tamia's shoes?

This story drew me in, it's very well written and like me you'll be trying to guess who the culprit is, as you go along and I thought I had it all sewn up but I was so wrong.

I gave this an 8/10.