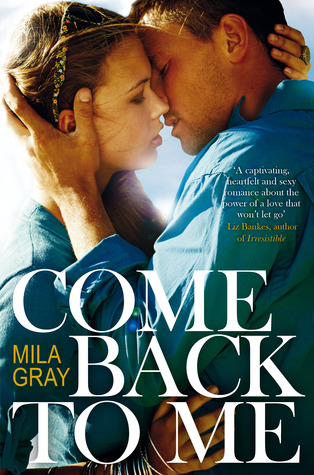 From Goodreads
Home on leave in sunny California, Marine and local lothario Kit Ryan finds himself dangerously drawn to his best friend's sister, Jessa - the one girl he can't have.

But Kit's not about to let a few obstacles stand in his way and soon Jessa's falling for his irresistible charms.

What starts out as a summer romance of secret hook-ups and magical first times quickly develops into a passionate love affair that turns both their worlds upside down.

When summer's over and it's time for Kit to redeploy, neither Kit nor Jessa are ready to say goodbye. Jessa's finally following her dreams and Kit's discovered there's someone he'd sacrifice everything for.

Jessa's prepared to wait for Kit no matter what. But when something more than distance and time rips them apart they're forced to decide whether what they have is really worth fighting for.

A breathtaking, scorchingly hot story about love, friendship, family and finding your way back from the edge of heartbreak.
My thoughts
A well deserved 8/10. This is written by Mila Gray a pseudonym of Sarah Alderson.
Jessa has a problem she's fallen for someone and loved him from afar for some time but her heart is set on someone, she'd be better off trying to forget.

Kit is a marine and spends months away from home, he is the object of Jessa's desires but he is also her brother Riley's best friend. He is also something of a player were women are concerned and Jessa's brother knows this. He is most defintely not suitable boyfriend material for his sister.

As the story opens we are dealt with an emotional cliffhanger. The story then goes back to the past before things happened that will change everyone's lives.

As we watch the inevitable relationship between Jessa and Kit develop, we become emotionally attached to them and those around them. I found that I could empathise with them all. Gray deals with some serious issues in this story and handles them well in my opinion. We the reader can only imagine what must be going through the characters minds as things happen to them.

If only we could all turn back time at some point, I bet there are things that quite a few of us would change and the same can be said about some of the charcters. Life has to go on though and as they all begin to pick up the pieces, things will never be the same again.

I really enjoyed this well written debut Adult story and will be looking out for more of her work in the future. Each chapter is told from the alternate perspective of the two main characters and gives a great insight into both of them.

I can thoroughly recommend this book to anyone who enjoys stories by Catherine Ryan Hyde or Elizabeth Berg.

I was given a copy of this in exchange for an honest review from the Publisher via NetGalley.