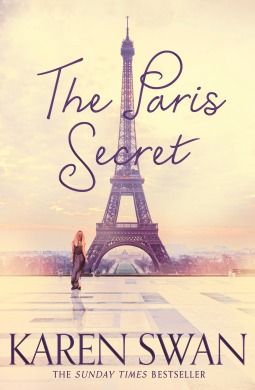 From Goodreads
Not every door should be opened . . .
With stunning locations and page-turning tension,
The Paris Secret
is an intense and gripping tale from bestselling author Karen Swan.
Somewhere along the cobbled streets of Paris, an apartment lies thick with dust and secrets: full of priceless artworks hidden away for decades.
High-flying fine art agent Flora from London, more comfortable with the tension of a million-pound auction than a cosy candlelit dinner for two, is called in to assess these suddenly discovered treasures. As an expert in her field, she must trace the history of each painting and discover who has concealed them for so long.
Thrown in amongst the glamorous Vermeil family as they move between Paris and Antibes, Flora begins to discover that things aren't all that they seem, while back at home her own family is recoiling from a seismic shock. The terse and brooding Xavier Vermeil seems intent on forcing Flora out of his family's affairs - but just what is he hiding?
My thoughts
I gave this a very solid 8/10 or 4 stars. My thanks to the Publishers and NetGalley for the opportunity to read this story in exchange for an honest review.
I was drawn to the cover on this story when I saw it on NetGalley. I have at least one other Karen Swan book on my TBR pile, this was the first time I have read her work though.
When I first started reading the story, I actually thought I'd read it before as I'd recently read another story set in and around the forgotten Paris apartment. The only similarity between the two stories was the apartment. Whilst this one centres around the priceless artwork contained within the flat, the other one,
The Paris Time Capsule
by
Ella Carey
deals with the property itself rather than the contents.
I enjoyed this story that was predominantly about Flora, the art expert and Xavier, the son of the family who own the apartment. From early on in the story I could tell their was an attraction of sorts between the two.
Whilst, the family were aware that they owned the apartment. The family didn't appear to realise what the apartment contained. As Flora, is employed to find out the provenance of the art within the apartment, the reader realises that the art might not have come into the families hands through completely legitimate means.
As this begins to dawn on the family, we find out what impact this had on the family members and how they cope with the added pressure that this brings to their already slightly dysfunctional family. No family is perfect and the Vermeil family, have plenty of secrets in their closets.
Well written, I found this a great fictional read that has been woven around a real event, finding the locked apartment in Paris, that had remained undisturbed for decades.