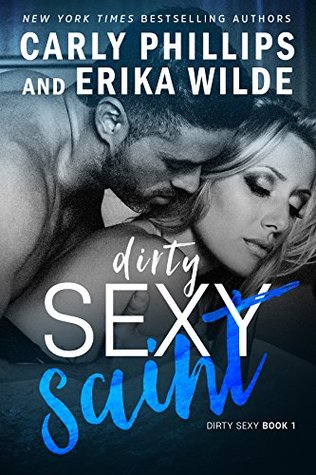 From Goodreads
New York Times bestselling authors Carly Phillips and Erika Wilde bring you a dirty, sexy, smoking hot SERIES featuring three bad boy brothers bonded by shocking secrets and their damaged past. Sinful, addicting, and unapologetically alpha, these men are every woman's erotic daydream ... And your ultimate dirty fantasy.
Are you ready to get Dirty Sexy with a Saint?
Clay Kincaid knows he's more a sinner than a saint. Especially when it comes to women. With a rough and damaged past that has left him jaded, he doesn't do committed relationships. But he does like sex—the hotter and harder, the better. He likes it fast and filthy, which is why he refuses to even touch someone as sweet and guileless as Samantha Jamieson. Until he discovers that she likes it just as down and dirty as he does. Let the sinning begin . . .
DIRTY SEXY INKED & DIRTY SEXY CUFFED coming in 2016!
All books in the DIRTY SEXY Series are full-length novels with no cliffhangers!
My thoughts
I gave this a 7/10 or 3.5 stars.
This is the first in an erotically charged series, however saying that it can be read as standalone as each story is full length and features a different Kincaid brother every time.
I have to admit that I do enjoy reading the odd erotic story and this one was reasonably well written with a storyline that flowed well. The erotic scenes were in no way gratuitous and fit well within the story.
Clay openly admits he is a sinner rather than a saint, he likes his women hot, sexy and sweet. He is a bar owner the wrong side of the tracks, some may say.
Samantha, has a dominant wealthy father who has arranged a marriage for her. Samantha is loathe to do as her father wishes and decides to leave all behind her.
Samantha walks into Clay's bar one night and the rest they say could be history, if Clay gets his way.
I enjoyed watching the relationship between Clay and Samantha develop into a hot and sexy erotic one at times. Although Clay sees himself as a bit of a bad boy, he is also a caring gentleman and it's not long before he has a soft spot for Samantha. He's also a rather dominant male in more ways than one and Samantha secretly enjoys being dominated both in and out of the bedroom.
To find out whether Clay's soft spot is permanently fulfilled or whether he ends up with a sour taste in his mouth, grab a copy of this story.