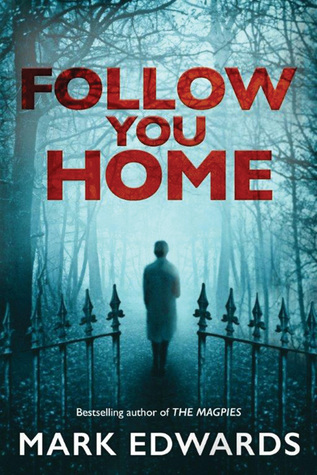 From Goodreads
It was supposed to be the trip of a lifetime, a final adventure before settling down.

After a perfect start, Daniel and Laura's travels end abruptly when they are thrown off a night train in the middle of nowhere. To find their way back to civilisation, they must hike along the tracks through a forest…a haunting journey that ends in unimaginable terror.

Back in London, Daniel and Laura vow never to talk about what they saw that night. But as they try to fit back into their old lives, it becomes clear that their nightmare is just beginning…

Follow You Home is a chilling tale of secrets, lies and deadly consequences from the author of #1 bestsellers The Magpies and Because She Loves Me.
My thoughts
My thanks to the Publishers and NetGalley for the opportunity to read this book in exchange for an honest review. I gave this a 9/10 or 4.5 stars.

This is the first book that I've read by Mark Edwards and it won't be the last. I know a lot of online friends and reviewers who've read his books and raved about them, so I'm looking forward to catching up with some of the others in due course.

I was hooked from the first few chapters, the scene was set and the atmosphere was tense and foreboding. I had no idea where the Author was going to take us.

What starts off as a seemingly innocent touring holiday for Daniel and Laura, soon turns into their worst nightmare. Thrown off a train in the middle of nowhere with no passports only their backpacks and a new female acquaintance for company, they are left in a snow clad wooded wilderness, they have to make their way to the nearest village and civilisation.

As one of them goes missing they stumble upon a creepy secluded house. What happens to them next, you'll have to read the book for yourself.

This is a pyschological thriller that kept me guessing and had so many twists and turns that it kept me reading that extra chapter beyond the time when I should've stopped reading. At times it was very dark and gothic, with some horrific occurrences that had me thinking time and again.

At times it reminded me of James Herbert and Stephen King stories as there was that element of horror and suspense that can be found in their work.

If you enjoy a good pyschological thriller, with elements of horror thrown in then this is an extremely suitable read for you. Give it a whirl and let me know how you get on with it.