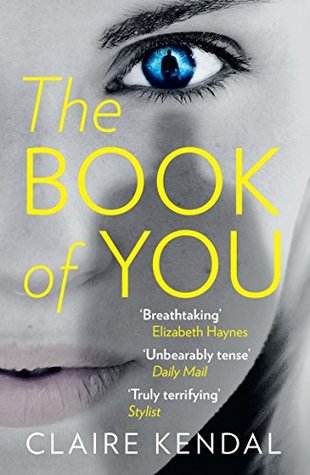 From Goodreads
A terrifying psychological thriller about obsession and power, perfect for fans of Gone Girl and Before I Go to Sleep.

Clarissa is becoming more and more frightened of her colleague, Rafe. He won't leave her alone, and he refuses to take no for an answer. He is always there.

Being selected for jury service is a relief. The courtroom is a safe haven, a place where Rafe can't be. But as a violent tale of kidnap and abuse unfolds, Clarissa begins to see parallels between her own situation and that of the young woman on the witness stand.

Realizing that she bears the burden of proof, Clarissa unravels the twisted, macabre fairytale that Rafe has spun around them – and discovers that the ending he envisions is more terrifying than she could have imagined.
My thoughts
Well reading the synopsis of The Book of You, it sounded right up my street. I'd picked the book up from the Library one night and had heard about it before seeing it in the Library.

I was expecting more from the story and I'm sad to say that on reading it, I found it hard going if I'm honest. I don't think it was the book's fault at all, I think my main problem was that I needed to be able to read it in larger chunks than I was managing.

Clarissa is being stalked and keeps a diary in order to record all the occurrences and episodes of stalking. She also keeps all the things that he sends her. Rafe a work colleague is the stalker obsessed with her.

Clarissa is becoming more and more frightened of him and finds some reprieve in the courtroom as a member of a jury. However, the case she is on in some ways mirrors what is happening in her own life.

I think this is where I was struggling as the victim had a similar name to Clarissa and I found that the story became a little blurred to me, perhaps this is Kendal's intent that we the reader are not sure of what is happening in and out of the courtroom.

I feel that I need to reread this story at some point in the future, to see if my experience is any different of it second time around.

It's quite dark at times and certain scenes throughout the book are a little graphic and is definitely for the Over 18's market in my opinion.

This is Kendal's debut novel and I will look out for further books by her. I gave this a 6/10.