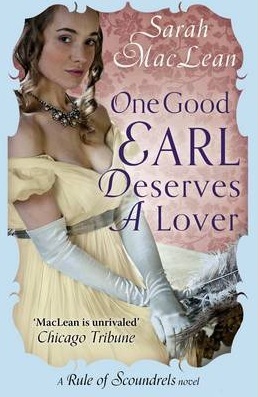 From Goodreads
The second in the incredible new Rules of Scoundrels series from New York Times bestselling author Sarah MacLean.

Lady Philippa Marbury is odd. The bespectacled, brilliant fifth daughter of the Marquess of Needham and Dolby cares more for books than balls, flora than fashion and science than the season. Nearly engaged to Lord Castleton, Pippa wants to explore the scandalous parts of London she's never seen before marriage. And she knows just who to ask: the tall, charming, quick-witted bookkeeper of The Fallen Angel, London's most notorious and coveted gaming hell, known only as Cross. Like any good scientist, Pippa's done her research and Cross's reputation makes him perfect for her scheme. She wants science without emotion - the experience of ruination without the repercussions of ruination. And who better to provide her with the experience than this legendary man? But when this odd, unexpected female propositions Cross, it's more than tempting . . . and it will take everything he has to resist following his instincts - and giving the lady precisely what she wants.
My thoughts
A great second story in The Rules of Scoundrels series.

In this story we learn more about Lady Philippa Marbury aka Pippa and Cross (one of the co-owners of The Fallen Angel). Pippa is soon to be engaged to Lord Castleton, who comes across as a bit of a simple man, but Pippa is not quite as worldly wise as she would hope to be in all things matrimonial. Pippa is quite a clever young woman and takes it upon herself to find out more about what she might be about to experience with Lord Castleton. Pippa is convinced that Cross is the man to help her learn in a scientific way about all thngs matrimonial, she sees him as an equal intellectually and has a hidden liking for him, that she would like to develop.

Cross has secrets he doesn't want to divulge and tells Pippa that he is not the man to help her in such matters. Can Pippa get to the bottom of the secrets and prove to Cross that he is just that man, despite his reservations?

I am really enjoying this series and have already reserved the next in the series from my local Library. I really enjoy the writing style and find the stories very easy to read.

I enjoyed the relationship between Pippa and Cross, I found it much more interesting and full of sexual tension than the relationship between Pippa and Lord Castleton, which seemed to be more of a match of convenience than anything else. I know who I wanted her to end up with, but to find out which man she ends up with you'll have to read the story for yourself.

If you enjoy historical romantic reads then this is the series for you.