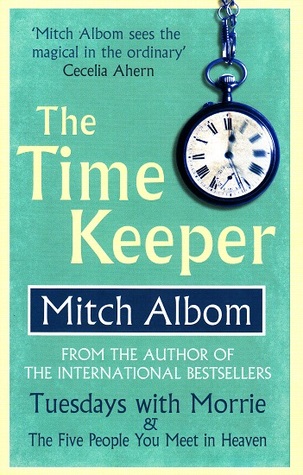 From Goodreads
Banished for centuries, as punishment for trying to measure time, the inventor of the world's first clock is finally granted his freedom, along with a mission: a chance to redeem himself by teaching two people the true meaning of time.

He returns to our world and embarks on a journey with two unlikely partners: a teenage girl who is about to give up on life and a wealthy, ageing businessman who wants to live for ever. To save himself, he must save them both.
My thoughts
Not having read any of this Authors books previously I didn't know what to expect at all.

The book isn't very long and the story is told in very short chapters and split into several parts. It didn't take long at all for this book to hook me in.

I loved the characterisation of the main three characters and really felt for the situations that they all found themselves. Most of us can sympathise with Sarah and how she felt rejected by the young man she was infatuated with. Not many of us will understand what Victor was going through with the terminal cancer illness hanging over his head and the choices he was making wouldn't necessarily suit his wife Grace. As for Dor aka Father Time none of us will have been in his situation at all, as we haven't been the inventor of time pieces, in this case he is fictional.

But the situation that we all will have been in at some point in our lives is, the victim of time. Never having enough hours in the day, wishing our time away, etc.

The story sure makes you think and one particular scene that both Sarah and Victor find themselves in that is orchestrated by Dor was very reminiscent to me of a scene in A Christmas Carol by Charles Dickens. This will be in my Top Ten of the Year, a very well deserved 10/10.